30
Years of Expertise

29
Stakes in RE Firms

3
Transportation Firms

As a publicly listed conglomerate, it is only right for us to demonstrate where our shareholdings go.
G Capital Berhad holds total or the majority stake in several subsidiaries such as Bas Rakyat Sdn Bhd, Gunung Hydropower Sdn Bhd as well as Perak Hydro Renewable Energy Corporation Sdn Bhd to ensure the direction of these companies follows the objective set earlier by the conglomerate which is to promote renewable energy.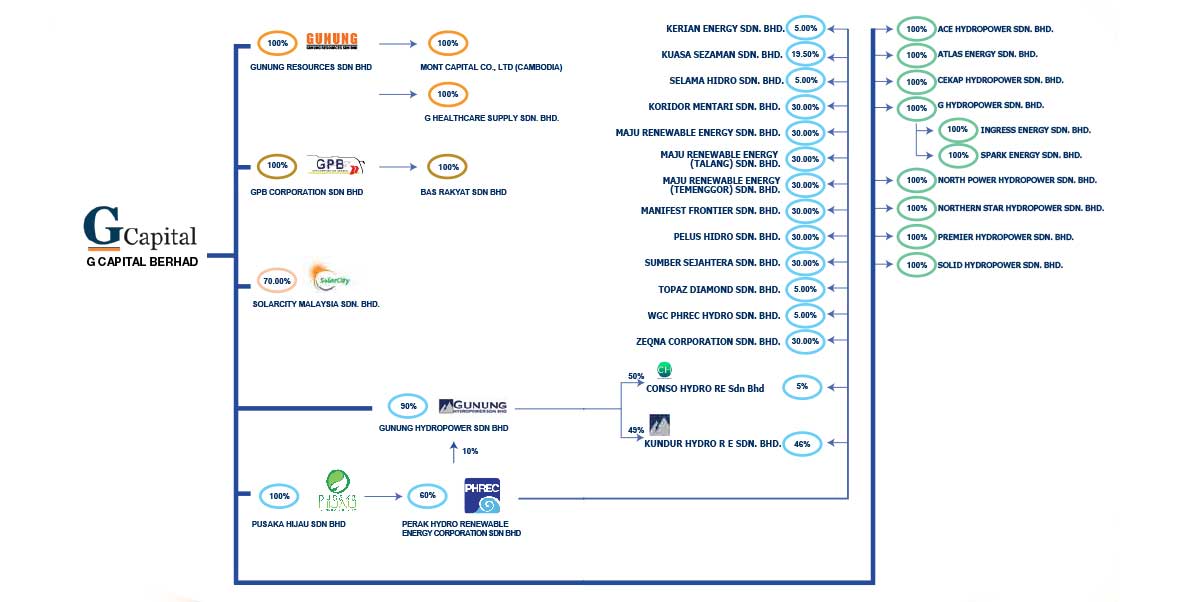 G Capital Berhad acquired GPB Corporation Sdn Bhd in 2010, which primarily charters its fleet of land-based passenger transportation assets and specialty vehicles. Now, through its wholly-owned subsidiaries GPB Corporation Sdn Bhd, Gunung Resources Sdn Bhd, and its indirect subsidiary, Bas Rakyat Sdn Bhd, GCAP is focused on chartering its transportation assets.
Via an innovative method of chartering transportation assets, together with drivers, fuel, maintenance costs, and other operational costs, at a fixed charge to our customers, has allowed GCAP to grow rapidly in terms of asset size. GCAP has a number of medium-term contracts with the Ministry of Defence.
Gunung Hydropower Sdn Bhd, a 90% subsidiary of G Capital Berhad is in the business of building and operating mini-hydropower plants.
Driven by the prospect of stable and continuous income stream for a period of 21 years, Gunung Hydropower has entered into a JV agreement with Perak Hydro Renewable Energy Corp Sdn Bhd (PHREC) in 2012 to develop a mini-hydropower plant, with 10MW installed capacity, in Perak.
In 2013, GCAP decided to acquire 85% stake in Pusaka Hijau Sdn Bhd, which in turn owns 60% of PHREC, in order to strengthen its presence in the mini-hydropower generation industry.